FHA Mortgage VS Conventional Loans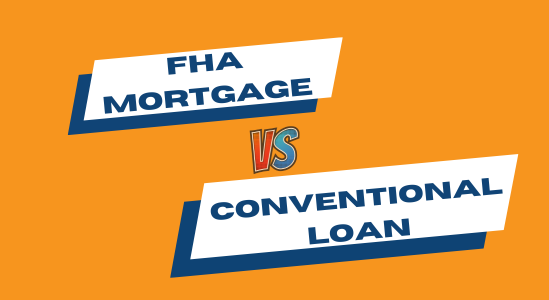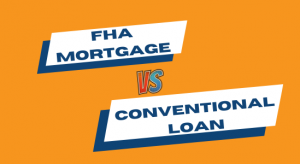 When it comes to buying a home, there are two main types of mortgages to consider: FHA mortgages and conventional mortgages. Here are some key differences between these two mortgage types to help you decide which one is right for you.
FHA Loans
FHA mortgages are insured by the Federal Housing Administration (FHA), which means that the FHA guarantees the loan in case of default. These types of loans are often easier to qualify for than conventional mortgages, making them a popular choice for first-time homebuyers and those with lower credit scores.
Benefits of FHA Mortgages
Easier credit qualification: Credit requirements for an FHA loan are often less stringent than those for conventional mortgages.

Higher debt-to-income ratio: FHA mortgages have a higher debt-to-income ratio allowance than conventional mortgages.

Streamlined refinancing: FHA mortgages have a streamlined refinancing process that makes it easier for homeowners to refinance their loans.

Up to 6% of the purchase price is allowed for seller concessions (assist)
Drawbacks of FHA Mortgages
Higher mortgage insurance premiums: FHA mortgages require mortgage insurance premiums that can add to the cost of the loan over time.

Upfront Mortgage Insurance fee: Borrowers must pay an upfront mortgage insurance premium as part of their loan agreement, which can be costly.

Limitations on borrowing: FHA mortgages have borrowing limits that may not be high enough to cover the full cost of some homes.

Property condition standards: Homes purchased with an FHA loan must meet certain condition standards set forth by HUD.
Conventional Mortgages
Conventional mortgages are not backed by the government and are typically offered by private lenders such as banks and credit unions. These types of loans generally have stricter guidelines established by Fannie Mae and Freddie Mac, and require a higher credit score and lower debt to income ratio than FHA loans.
Benefits of Conventional Mortgages
No mortgage insurance premiums required with 20% down payment.

Higher borrowing limits: Conventional mortgages have higher borrowing limits than FHA mortgages allowing buyers to purchase more expensive homes.

Qualifying for a conventional loan is also simpler for those with higher credit scores and good income-debt ratio.

No property condition standards: Conventional mortgages typically only require a home appraisal.

With higher credit score, can have lower PMI compared to FHA loans

First time homebuyers can possibly qualify for as little as 3% down as long as they meet the program requirements.
Drawbacks of Conventional Mortgages
Higher Interest rates: Conventional mortgages generally have higher interest rates

Stricter credit score requirements: Conventional mortgages generally require a higher credit score than FHA mortgages.

Lower debt-to-income ratio allowance: Conventional mortgages have a lower debt-to-income ratio allowance than FHA mortgages.
Overall, both FHA and conventional mortgages have their pros and cons, and the right choice depends on your individual financial situation and goals. If you have a lower credit score, a smaller down payment, or a higher debt-to-income ratio, an FHA mortgage may be the better choice. If you have a higher credit score, a larger down payment, or are looking to borrow more money, a conventional mortgage may be a better fit.
At Innovative Mortgage Brokers, we are dedicated to helping you find the right mortgage solution to meet your needs. Whether you are looking for a conventional mortgage, an FHA mortgage, or a renovation loan, we can help. Covering both Pennsylvania and Florida, we have the knowledge and expertise to assist you in finding the ideal mortgage product for your unique situation.
We understand that everyone's financial situation is different, and our goal is to provide personalized service that meets your needs. We'll take the time to understand your goals, credit score, employment history, and other important factors to determine the right mortgage product for your situation.
Our innovative approach to mortgage financing includes using the latest technology solutions to streamline the application process, working with a wide range of lenders to find competitive rates and terms, and providing tailored solutions that fit the needs of our clients.
We specialize in providing outstanding customer service, and our team is ready to help you navigate the often-complex mortgage process. Don't let the stress of finding the right mortgage product overwhelm you; let Innovative Mortgage Brokers take care of the heavy lifting for you.
If you're interested in learning more about our services and how we can help you find the right mortgage in Pennsylvania or Florida, please contact us today.