Understanding Freddie Mac's Updated Guidelines for IRS Installment Agreements Not Yet Approved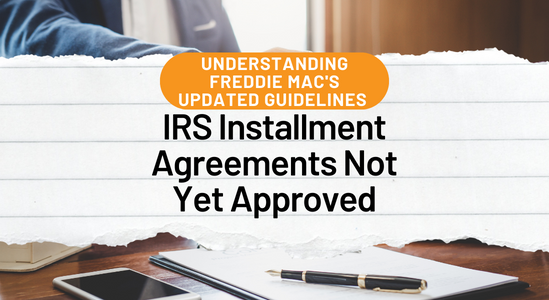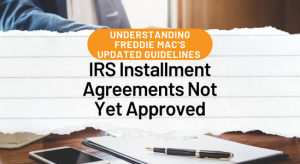 At Innovative Mortgage Brokers we turn the complexities of the mortgage landscape into an empowering journey for you! We understand that navigating the mortgage landscape can be challenging, especially with frequent updates in guidelines. Recently, Freddie Mac has introduced updated guidelines for lenders regarding the calculation of IRS installment agreements. These changes will come into effect for mortgages with settlement dates on or after November 30, 2023. However, lenders are encouraged to implement these immediately. Here's a simplified breakdown of what these changes mean for you.
Understanding IRS Installment Agreements
An IRS installment agreement can be an effective solution for those who find themselves unable to pay their tax debt immediately. This type of payment plan offers the flexibility of spreading out your tax payments over a specified period, making it more manageable and less overwhelming. It's designed to accommodate your financial circumstances, allowing you to fulfill your tax obligations without causing undue financial stress.
The installment agreement is not merely a delaying tactic; it's a legitimate arrangement recognized by the IRS. It demonstrates your commitment to settling your tax debt and can help you avoid severe penalties or legal actions.
Current Change – Applications for Installment Agreements that are Pending IRS Approval
If a borrower has submitted an application for an IRS installment agreement that is yet to receive approval from the IRS, Freddie Mac's latest guidelines now allow that to be used for a mortgage approval and the debt-to-income calculation.
The following requirements must be met:
The application for the installment agreement reflecting the amount of taxes owed and requested payment terms must be documented in the Mortgage file,

The greater of the monthly payment amount requested by the Borrower or the amount of taxes owed divided by 72 must be included in the Borrower's debt payment-to-income ratio, and

There must be no indication, and the lender must have no knowledge, that the IRS has filed a Notice of Federal Tax Lien for the taxes owed by the Borrower.
These changes are designed to ensure that borrowers with pending IRS installment agreements are accurately accounted for during the mortgage application process. At Innovative Mortgage Brokers, we're here to help you navigate these updates and understand how they might affect your mortgage application.
Remember, every financial situation is unique, so it's essential to consult with a mortgage professional to understand how these updates apply to you. Contact us today for personalized advice and guidance.
Choosing to work with Innovative Mortgage Brokers can significantly streamline and simplify the process for you of financing residential real estate in Pennsylvania (PA) and Florida (FL) One of the key advantages is our expertise and deep understanding of the local markets in these states. We are well-versed in the unique regulations, trends, and opportunities, which can be crucial in navigating the often complex terrain of real estate financing.
We offer personalized service tailored to each client's unique needs. At Innovative Mortgage Brokers we take the time to understand your financial situation, goals, and preferences, and then leverage our extensive network of lenders to find the most suitable loan products for you. This means you're not just getting a one-size-fits-all solution, but a customized strategy designed to secure the most competitive terms and rates available on the market.
Furthermore, we manage all the paperwork and negotiations on your behalf, saving you significant time and effort. Our established relationships with various lenders can also lead to quicker approvals and smoother transactions. If you're considering getting a mortgage in Pennsylvania or Florida, we at Innovative Mortgage Brokers are here to assist you.
In essence, working with us at Innovative Mortgage Brokers provides you with a partner who can guide you through every step of the real estate financing process, ensuring that you make informed decisions and achieve your property ownership goals. So, for a mortgage experience designed around you, remember to reach out to us.