FHA Loans aren't just for First-Time Homebuyers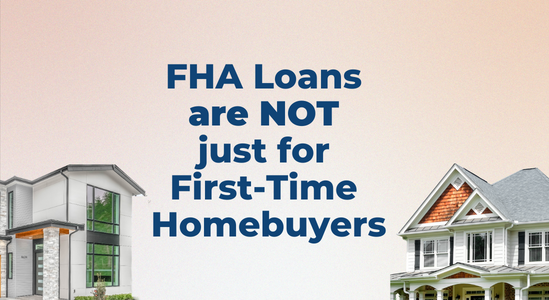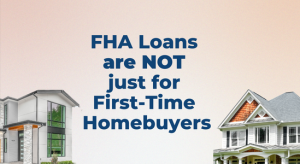 FHA loans have a reputation for being only for first-time homebuyers, but they could be a solution for almost any homebuyer.
If you don't have 'great' credit or your debt-to-income ratio is higher than conventional loans allow, an FHA loan can be a great alternative.
Here's everything you must know.
What are FHA Loans?
FHA loans are government-backed loans that allow lenders to offer flexible loan requirements. Many people believe they are only for first-time homebuyers, but they are available to anyone who meets the requirements.
The FHA's guarantee to repay them if a borrower defaults allows lenders to accept the more flexible guidelines the FHA requires. This ensures more borrowers get approved for financing and can purchase a home sooner.
How do FHA Loans Work?
FHA loans work like any other loan. But, first, you apply for it with an FHA-approved lender, completing a loan application and providing your qualifying documentation.
The lender handles the underwriting and funding of your loan and the payments. In exchange for the FHA's guarantee, you'll pay FHA mortgage insurance at the closing UFMIP (Upfront Mortgage Insurance) and monthly PMI.
The upfront FHA mortgage insurance fee is 1.75% of the loan amount and may be wrapped into your loan if you don't have the funds to pay it upfront.
The annual mortgage insurance premium is 0.85% of the outstanding loan amount, and your lender will divide it into 12 equal payments, adding the insurance premium to your mortgage payment. Annual mortgage insurance premiums decrease as you pay the principal down, as it's based on the average outstanding balance annually.
Who is Eligible?
Anyone who meets the qualification requirements is eligible for an FHA loan. Unfortunately, many people mistakenly believe it's only for first-time homebuyers. However, anyone can qualify. It's a nice loan for first-time buyers because it requires only a 3.5% down payment, but any applicant who doesn't have perfect credit or has a high debt-to-income ratio may be eligible.
How to Qualify for FHA Loans
You'll need to meet the FHA guidelines to qualify for FHA loans. Each lender has different requirements, but here are the minimum requirements according to the FHA.
The FHA requires a minimum 580 credit score to qualify for an FHA loan with low down payment of 3.5%. This is much lower than conventional loans require, giving borrowers a higher chance of getting approved.
Minimum 3.5% Down Payment
FHA loans require at least 3.5% down if you have a 580+ credit score. You can use down payment assistance programs or properly sourced gift funds if you don't have the full down payment.
Stable Income and Employment
To qualify for FHA loans, you must prove a stable 2-year employment and income history. This ensures you can repay the loan. For example, if you've changed jobs in the last two years, you may still qualify, but it's best if you're in the same industry or have a proven track record that you will succeed, such as returning to school or undergoing specific training.
FHA loans are for primary residences only. Therefore, you must prove you plan to live in the home as the home you'll live in full time.
Reasons to Use an FHA Loan
FHA loans often make sense for first-time homebuyers because of their flexible guidelines, but here are more reasons to use an FHA loan even if you aren't a first-time buyer.
Flexible Credit Qualification Requirements
FHA loans are great for borrowers with a recent negative credit event, such as late payments or collections. In addition, FHA loans have more flexible guidelines regarding credit scores, allowing borrowers to get approved with scores as low as 580.
Low Down Payment Requirements
Even if you owned a home before, a large down payment might not be possible. However, FHA loans require only 3.5% down. So if you either don't have the funds or need to keep them liquid, an FHA loan can be beneficial.
Competitive Interest Rates
If you're on a tight budget, FHA loans offer competitive interest rates, making it easier to qualify for and afford a loan. Also, if your debt-to-income ratio is close to the limit, the lower interest rate may make it easier to qualify.
Flexible Debt-to-Income Ratio Requirements
If you have a lot of debt or your income is lower, your DTI may not qualify you for a conventional loan, but FHA loans are more forgiving.
Final Thoughts
An FHA loan can be a suitable alternative if you aren't a first-time homebuyer but don't qualify for traditional financing.
The low down-payment and flexible underwriting requirements allow borrowers to secure financing with competitive interest rates.
If you'd like to see if you're eligible for an FHA loan or to compare your options for mortgage financing, contact us today.