From Pennsylvania to Florida: Your Journey to Property Ownership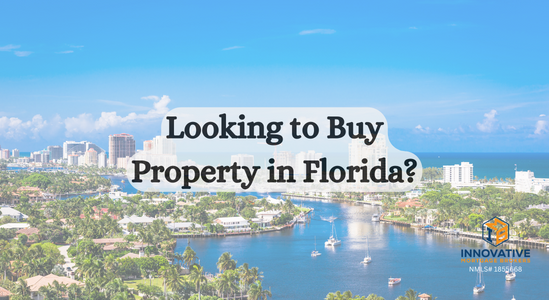 Whether you're a Pennsylvania resident dreaming of a tropical retreat in Florida, considering a permanent relocation to the Sunshine State, or looking to expand your investment portfolio with some prime beachfront property, Innovative Mortgage Brokers is your trusted partner in this exciting journey. With our extensive experience and deep understanding of both the Pennsylvania (PA) and Florida (FL) housing markets, we are uniquely positioned to guide you every step of the way.
Why Consider Florida
The Sunshine State Lifestyle
There's a reason why Florida is known as the Sunshine State. With its year-round warm weather, stunning beaches, and vibrant cultures, it's the perfect place for a second home, retirement destination, or investment property. It's not just about the climate – Florida boasts a thriving real estate market, diverse communities, and a lifestyle that's as relaxed or as dynamic as you want it to be.
Investment Potential
Florida's real estate market consistently shows strong growth potential. Investing in a rental property or vacation home here can provide significant returns, making it an attractive proposition for savvy investors.
The Buying Process with Innovative Mortgage Brokers
Navigating the out-of-state property purchase process can be challenging, but that's where we come in.
Understanding the Market
Our team stays abreast of the latest trends in the Florida real estate market. We provide up-to-date insights to help you make informed decisions about when and where to buy.
Financing Your Dream
As mortgage brokers, we work with a wide network of lenders, helping you secure competitive mortgage rates and terms. We simplify the financing process, making your Florida property dream more attainable.
How Innovative Mortgage Brokers Can Assist
Tailored Solutions
At Innovative Mortgage Brokers, we understand that every client has unique needs. We offer bespoke services tailored to meet your specific property goals.
Experienced Guidance
Our team will walk you through the complexities of Florida's property buying process. From financing to closing, we'll be there every step of the way.
Continued Support
Our relationship doesn't end once you've bought your property. We offer ongoing support to ensure your questions are answered, and issues are resolved.
Conclusion
Whether you're buying a second home, relocating, or investing in Florida property, Innovative Mortgage Brokers can make the process smoother and more manageable. Contact us today and take the first step towards achieving your Florida property dreams.