Affordability Challenges: A Hurdle, Not a Roadblock in Today's Housing Market

Considering the purchase or sale of a home might seem daunting in the current climate. With mortgage rates at their highest in recent years and escalating home prices, the challenge is real, as depicted by the graph below.
Deciphering the Affordability Graph
This graph provides a snapshot of the present affordability compared to previous years. The National Association of Realtors (NAR) provides a simple method to decipher the graph: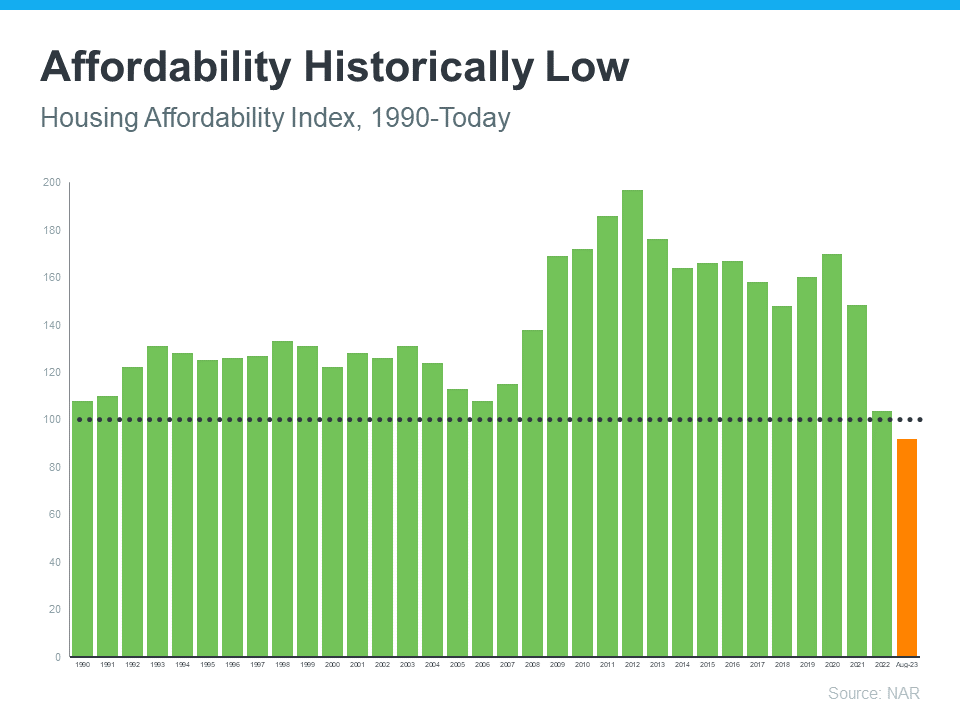 "An index value of 100 signifies that a family earning the median income has precisely enough to qualify for a mortgage on a median-priced residence."
The black dotted line on the graph signifies the index value of 100. The taller the bar, the more affordable homes are. As depicted by the orange bar, today's higher mortgage rates and home prices have indeed posed a significant challenge.
Despite Challenges, Homes Are Selling
However, despite the tightened affordability, the housing market is far from stagnant. As per NAR, nearly 4 million homes are projected to be sold this year based on the current sales rate. Let's break that down:
3.96 million homes over 365 days = 10,849 houses sold daily
10,849 homes over 24 hours = 452 houses sold every hour
452 homes over 60 minutes = approximately 8 houses sold each minute
This means that on an average day, over 10,000 homes are being sold in the country. Whether you're looking to buy or sell, these numbers show that it's still possible to navigate the market, even in times of tight affordability.
How a Real Estate Agent Can Facilitate Your Move
You might be wondering how others are managing to buy or sell homes in the current market. One significant advantage is engaging with a reliable local real estate agent. These professionals are adept at helping clients like you navigate the present market and understand the affordability situation.
The Advantage of Professional Advice
Experienced agents can provide personalized advice based on your specific requirements, budget, and more. They can also share strategies that have worked for others in the current market. This might include expanding your search to include other types of housing like condos, townhouses, or neighborhoods slightly further afield to counter the challenges of affordability.
Final Thoughts
While home affordability is tighter than it has been in recent memory, it doesn't mean that people aren't buying or selling homes. Yes, the cost of homeownership has risen over the past few years, but people are still on the move.
If you're in the market for a new home or just thinking and need to get pre-approved for a mortgage in Pennsylvania or Florida, we invite you to reach out to us at Innovative Mortgage Brokers. We're more than just a mortgage company – we're your dedicated partner in your home-buying journey.
Our team is committed to providing personalized, top-notch service to meet your specific needs. We understand that every client's situation is unique, and we pride ourselves on our ability to provide customized mortgage solutions that fit your financial goals.
Innovative Mortgage Brokers isn't just about securing loans; we're about building relationships. Our goal is to earn your business and become your go-to resource for all things mortgage-related, not just for this transaction but for years to come.
We offer a hassle-free pre-approval process that can give you a competitive edge when house hunting, and our team are always available to answer any questions you may have.
So, whether you're a first-time buyer, looking to upgrade, or seeking an investment property, we're here to guide you every step of the way. Reach out to us to help you turn your dream of homeownership into reality. Let's get connected.